Kontakt
[
Zur Übersicht
]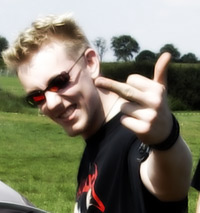 Name:
Jens Korinth

Statistik:
Durchschnittswertung: 9.5/15
Reviews mit Wertung: 7
Reviews ohne Wertung: 0

Alle Reviews
des Autors

Detaillierte Statistiken

Herkunft:
Norderstedt

Genres:
Death, Thrash, Rock'n'Roll aller Art (meinetwegen auch Country, dann aber
mit Eiern & RnR wie Johnny Cash :p). Eigentlich jede Art von gut gemachter
Gitarren-lastiger Musik, bei der man künstlerischen Anspruch mehr hört als
kommerziellen.

Bands:
MetallicA, The Crown, Rage Against The Machine, Godsmack, In Flames (naja,
mit Ausnahme von Reroute To Remain & Soundtrack to your escape), Johnny
Cash, Eric Clapton, Joe Satriani, Samael, Robert Randolph & The Family Band
uvm.

Alben:
Metallica - ...and Justice For All
Metallica - Master of Puppets
Metallica - Kill'em All
Met... Ach scheiß drauf, Metallica - komplette Discografie :)
The Crown - Possessed 13
Samael - Reign Of Light
Johnny Cash - American IV - The Man Comes Around
Slayer - Reign in Blood

Konzerte:
In Flames, Sentenced, To Die For; Markthalle '98 oder '99

Robert Randolph & The Family Band (als Vorgruppe von Eric Clapton) '04